Chamfer polishing
For the perfect execution of crowns and dental bridges I recommend chamfer polishing.
Chamfer polishing involves special tooth preparation and a thorough polishing technique. The gingival limit is a horizontal surface that forms a 90° angle with the longitudinal axis of the tooth; the edges of the prosthetic work (crown) are held on its edges.
As compared to the conventional (tangent) polishing, chamfer polishing is considerably better from a periodontal viewpoint – i.e. the ending of the tooth preparation is very precise and the adjustment of the dental piece can be accurate, which will protect the gum against any kind of irritation. Thus, a continuity is obtained between the dental root and the edge of the work, removing any dehiscence that may damage the gum. At teeth polished otherwise, the edges of the work push and irritate the gum, and later the gum will recede, decreasing tooth implantation.
---
Protecting frontal teeth with ceramic work
Clinical case 27
The patient presented for aesthetic reasons with problems in the upper frontal area. By mutual agreement, we have set up the upper frontal teeth with a ceramic work (D'sign). After ablation of old crowns, endodontic treatments, restoration of glass fiber pins, recording with the face arc (to the technician) and teeth grinding, we have achieved the desired result aesthetically and functionally.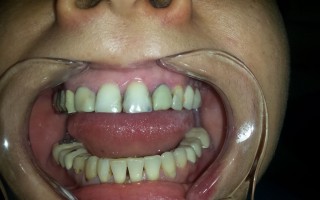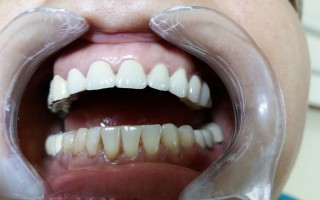 11 Maiember 2014 • Protecting frontal teeth with ceramic work →
---
If you have any questions about our chamfer polishing please contact us for more detailed information.
See similar dental services in the Dental prosthetic category or the complete list of dentistry services. For costs and pricing of chamfer polishing, check our dental prosthetic prices list.
---