Clinical case 35:
Fixed prosthetic work: 8 implants and prosthesis
3 February 2016 • Dental implants • Implants
The 75-year-old patient was presented in the cabinet with a total mandibular edentation. The patient wanted to change the mobile work (prosthesis) with a fixed prosthetic work. Following the treatment plan, we established the insertion of 8 implants and prosthesis with a fixed metal-ceramic work. The patient is an Italian citizen and worked against the timer.
---
Fixed prosthetic work: 8 implants and prosthesis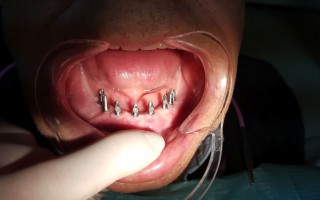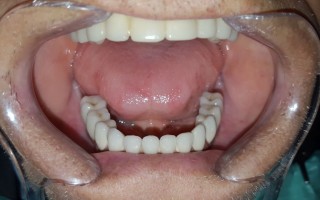 The dental implant is a "screw", sized to match natural teeth, made from titanium – a type of metal 100% biocompatible with human tissues. The dental implant will replace a tooth (or several teeth) lost after an extractor or because of other complications.
If you have any questions about our dental implants please contact us for more detailed information.
See similar dental services in the Implants category or the complete list of dentistry services. For costs and pricing of dental implants, check our implants prices list.
---
Dental implants
Cases →
---